You are here
Back to top
Dark Places (Paperback)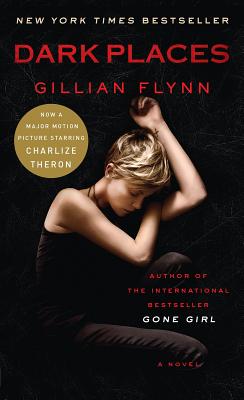 May 2009 Indie Next List
---
"Once again, Gillian Flynn focuses on a deeply flawed protagonist. This time it's 32-year-old Libby Day, who is searching for the person who killed her family 25 years ago. Told alternatively in the present and in flashbacks to the events leading up to the horrific event, this compelling story mesmerizes even as it horrifies. Flynn exceeds the promise shown in her first novel, Sharp Objects."
— Joe, Anderson's Bookshop, Naperville, IL
Description
---
FROM THE #1 NEW YORK TIMES BESTSELLING AUTHOR OF GONE GIRL

Libby Day was seven when her mother and two sisters were murdered in The Satan Sacrifice" of Kinnakee, Kansas. She survived and famously testified that her fifteen-year-old brother, Ben, was the killer. Twenty-five years later, the Kill Club asecret secret society obsessed with notorious crimes locates Libby and pumps her for details. They hope to discover proof that may free Ben. Libbyhopes to turn a profitoff her tragic history: She ll reconnect with the players from that night and report her findings to the club for a fee. As Libby's search takes her from shabby Missouri strip clubs to abandoned Oklahoma tourist towns, the unimaginable truth emerges, and Libby finds herself right back where she started on the run from a killer.
About the Author
---
GILLIAN FLYNN is the author of the #1 New York Times bestseller Gone Girl and the New York Times bestsellers Dark Places and Sharp Objects. A former writer and critic for Entertainment Weekly, her work has been published in 42 countries. She lives in Chicago with her husband and son.
Praise For…
---
NEW YORK TIMES BESTSELLER

Named one of the Best Books of 2009 by Publishers Weekly

A Weekend TODAY "Top Summer Read"

The New Yorker's Reviewers' Favorite from 2009

A 2009 Favorite Fiction Pick by The Chicago Tribune

"[A] nerve-fraying thriller."
—The New York Times

"Flynn's well-paced story deftly shows the fallibility of memory and the lies a child tells herself to get through a trauma."
—The New Yorker

"Gillian Flynn coolly demolished the notion that little girls are made of sugar and spice in Sharp Objects, her sensuous and chilling first thriller. In DARK PLACES, her equally sensuous and chilling follow-up, Flynn…has conjured up a whole new crew of feral and troubled young females….[A] propulsive and twisty mystery."
—Entertainment Weekly

"Flynn follows her deliciously creepy Sharp Objects with another dark tale . . . The story, alternating between the 1985 murders and the present, has a tense momentum that works beautifully. And when the truth emerges, it's so macabre not even twisted little Libby Day could see it coming."
—People (4 stars)

"Crackles with peevish energy and corrosive wit."
—Dallas Morning News

"A riveting tale of true horror by a writer who has all the gifts to pull it off."
—Chicago Tribune

"In her first psychological thriller, Sharp Objects, Flynn created a world unsparingly grim and nasty (the heroine carves words into her own flesh) written with irresistibly mordant humor. The sleuth in her equally disturbing and original second novel is Libby Day....It's Flynn's gift that she can make a caustic, self-loathing, unpleasant protagonist someone you come to root for."
—New York Magazine

"[A] gripping thriller."
—Cosmopolitan

"Gillian Flynn is the real deal, a sharp, acerbic, and compelling storyteller with a knack for the macabre."
–Stephen King

"Another winner!"
—Harlan Coben

"Gillian Flynn's writing is compulsively good. I would rather read her than just about any other crime writer."
—Kate Atkinson

"Dark Places grips you from the first page and doesn't let go."
—Karin Slaughter

"With her blistering debut Sharp Objects, Gillian Flynn hit the ground running. Dark Places demonstrates that was no fluke."
—Val McDermid

"Dark Places' Libby Day may seem unpleasant company at first–she's humoring those with morbid curiosities about her family's murders in order to get money out of them–but her steely nature and sharp tongue are compelling. 'I have a meanness inside me,'she says, 'real as an organ.'Yes she does, and by the end of this pitch-black novel, after we've loosened our grip on its cover and started breathing deeply again, we're glad Flynn decided to share it."
—Jessa Crispin, NPR.org

"Flynn returns to the front ranks of emerging thriller writers with her aptly titled new novel . . . Those who prefer their literary bones with a little bloody meat will be riveted."
—Portland Oregonian

"Gillian Flynn may turn out to be a more gothic John Irving for the 21st century, a writer who uses both a surgeon's scalpel and a set of rusty harrow discs to rip the pretty face off middle America."
—San Jose Mercury News

"The world of this novel is all underside, all hard flinch, and Flynn's razor-sharp prose intensifies this effect as she knuckles in on every sentence. . . . The slick plotting in DARK PLACES will gratify the lover of a good thriller–but so, too, will Flynn's prose, which is ferocious and unrelenting and pure pleasure from word one."
—Cleveland Plain Dealer

"Gillian Flynn's second novel, DARK PLACES, proves that her first – Sharp Objects – was no fluke. . . . tough, surprising crime fiction that dips its toes in the deeper waters of literary fiction."
—Chicago Sun-Times

"Flynn fully inhabits Libby—a damaged woman whose world has resided entirely in her own head for the majority of her life and who is prone to dark metaphors: 'Draw a picture of my soul, and it'd be a scribble with fangs.' Half the fun of DARK PLACES is Libby's swampy psychology, which Flynn leads us through without the benefit of hip waders."
—Time Out Chicago

"Clever, engrossing and disturbing….[DARK PLACES] should cement [Flynn's] place in the great authors of crime fiction."
—Crimespree

"[D]eliciously creepy...Flynn follows 250-some pages of masterful plotting and character development with a speedway pileup of pulse-pounding revelations."
—Chicago Reader

"A genuinely shocking denouement."
—Romantic Times

"Sardonic, riveting . . . Like Kate Atkinson, Flynn has figured out how to fuse the believable characters, silken prose and complex moral vision of literary fiction to the structure of a crime story. . . . You can sense trouble coming like a storm moving over the prairie, but can't quite detect its shape."
—Laura Miller, Salon.com

"These characters are fully realized—so true they could step off the page….hints of what truly happened to the Day family feel painfully, teasingly paced as they forge an irresistible trail to the truth….Could. Not. Stop. Reading."
—Bookreporter.com

"Libby's voice is a pitch-perfect blend of surliness and emotionally charged imagery. . . . The Kansas in these pages is a bleak, deterministic place where bad blood and lies generate horrifically unintended consequences. Though there's little redemption here, Flynn manages to unearth the humanity buried beneath the squalor."
—Bloomberg.com

"Set in the bleak Midwest of America, this evocation of small-town life and dysfunctional people is every bit as horribly fascinating as Capote's journalistic retelling of a real family massacre, In Cold Blood, which it eerily resembles. This is only Flynn' s second crime novel–her debut was the award-winning Sharp Objects–and demonstrates even more forcibly her precocious writing ability and talent for the macabre."
—Daily Mail (UK)

"Flynn's second novel is a wonderful evocation of drab small-town life. The time-split narrative works superbly and the atmosphere is eerily macabre—Dark Places is even better than the author's award-winning Sharp Objects."
—The Guardian (UK)

"A gritty, riveting thriller with a one-of-a-kind, tart-tongued heroine."
—Booklist, starred review

"Flynn's second crime thriller tops her impressive debut, Sharp Objects…When the truth emerges, it's so twisted that even the most astute readers won't have predicted it."
—Publishers Weekly, starred review

"The sole survivor of a family massacre is pushed into revisiting a past she'd much rather leave alone, in Flynn's scorching follow-up to Sharp Objects . . . Flynn intercuts Libby's venomous detective work with flashbacks to the fatal day 24 years ago so expertly that as they both hurtle toward unspeakable revelations, you won't know which one you're more impatient to finish. . . . every sentence crackles with enough baleful energy to fuel a whole town through the coldest Kansas winter."
—Kirkus Reviews

"Once in a while a book comes along that puts a new spin on an old idea. More than 40 years ago, Truman Capote took readers inside the Clutter farmhouse in Holcomb, KS, to show them what it was like to walk in a killer's shoes. Flynn takes modern readers back to Kansas to explore the fictional 1985 Day family massacre from the perspective of a survivor as well as the suspects. . . . tight plotting and engaging characters."
—Library Journal